Discover more from RoamBrain Newsletter
Information and resources for using Roam Research more effectively.
Over 1,000 subscribers
RoamBrain newsletter #2
News about Roam Research, links to useful Roam resources and updates about new content on RoamBrain.com.
Welcome to issue #2 of the RoamBrain newsletter. Our major news is the launch of a new RoamBrain project, RoamPublic.com, which will be linking to editions of public texts that have been converted into Roam databases. More information can be found below.
---
What's new on RoamBrain.com?
Leonardo Da Vinci and Roam-Thinking
Drew Coffman writes about the importance of combining connected thinking with collaborative thinking – and how Leonardo Da Vinci epitomizes the former but not the latter. Read more.
I Tried to Build a Zettelkasten Following Andy Matuschak's Notes and Now I Have This Weird Thing
Kahlil Corazo describes how he has developed a zettelkasten note-taking system that he has customised for his own needs. Read more.
How I Roamified the Mahabharata (and how you can too!)
Rishi Tripathy explains the complex process he followed to convert the Mahabharata, one of the longest books ever written, into a format suitable for a Roam database. Read more.
Finding patterns in the past: Using Roam as a self-therapy tool
In a moving article, Kane Dodgson describes how he used Roam to discover hidden patterns in his past and create an effective new strategy to help him escape from periods of depression. Read more.
Adding texts to Roam
David Crandall describes the simplified process he uses to create Roam databases of less structurally complex /shorter texts, which have included Plato's Republic, Machiavelli's The Prince and Augustine's Confessions. Read more.
---
Useful Roam resources

One way of looking at Roam is to divide the different interactions into three categories:
1) importing information
2) working in Roam
3) exporting information.
This week, we will be focusing on the second and third categories.
Working in Roam
Adding themes to your Roam
One of the major feature improvements from Roam this week has been the addition of the ability to customise the look of your Roam database by using themes designed by users of the Roam community.
Below are three of the themes available.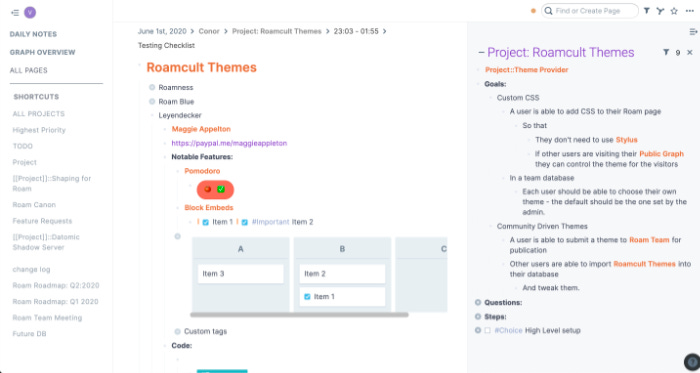 The Leyendecker theme by Maggie Appleton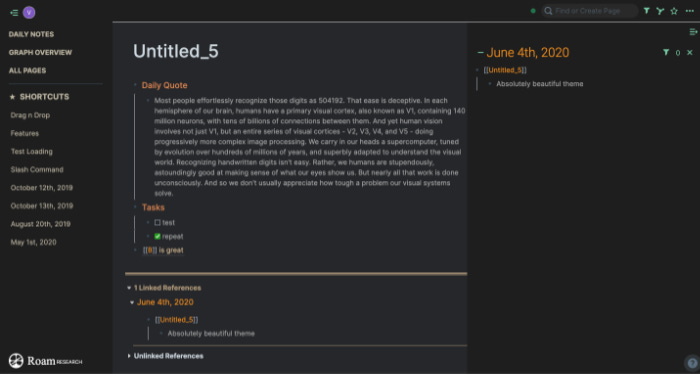 The Dark Age theme by shodty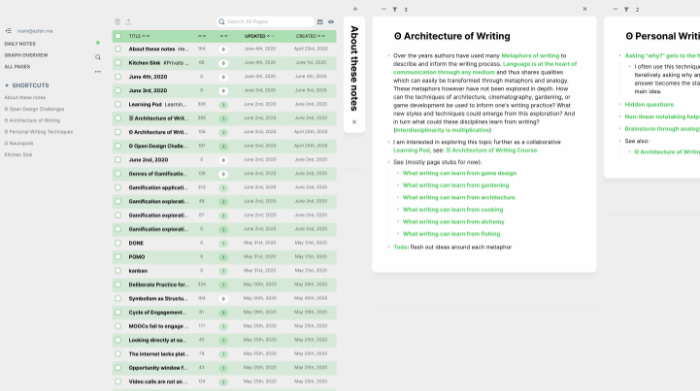 The Zenith theme by Azlen Elza
Although I didn't have any major dislike of the standard Roam theme, I thought I would install the Leyendecker theme yesterday just to experiment.
I was surprised by how different the experience of working in Roam felt with the new theme. It gives a fresher experience and there's a sense of Roam feeling more inviting to work in.
It takes about 10 minutes to set up a new theme once you've chosen the one you want. And then switching it off if you don't like it can be done in seconds.
Below is a summary of the process.

I've written a series of step-by-step instructions with screenshots, which should make the process even easier. Get them by clicking on the button below.
The Roam Toolkit
The Roam Toolkit is a Chrome and Firefox extension developed by Vladyslav Sitalo, which I have been using for ages to add in dates into Roam easily.
Instead of having to go to the Date Picker and choose the date you want, the extension has a fuzzy date feature to type in days surrounded by semi-colons (eg ;Friday;). The properly formatted Roam date then appears instantaneously. You can also set up past dates (eg. last Monday) and future dates.
It's a real time-saver.
However an article by Mark Traphagen on Roam Tips shows I haven't begun to even scratch the surface with the extension.
Its other functions include:
spaced repetition

features for working with Roam blocks

the ability to calculate estimates

custom CSS

a live preview option to show hovered over Roam page links.
The Roam Tips article can be found here.
Roam Toolkit extension links:
Exporting information
Another significant improvement has been launched by Roam this week although this one has been almost unheralded.
If you go to your All Pages page (the third link on the left-hand sidebar), you will see that each of your Roam pages now has a checkbox by them.

By selecting the relevant checkboxes and then clicking on the Export icon, you can choose to export your page or pages as a JSON or Markdown file.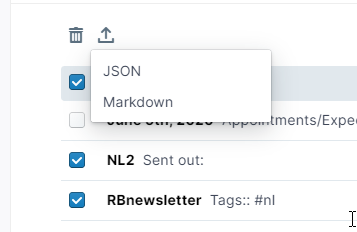 This is going to be so useful if you want to send a friend, colleague or client some individual pages from your database. I've already sent a friend my css page, which means he will be able to install a new theme in seconds rather than having to go through the whole theme setup process himself.
---
#RoamWorld news and information
Roam coming out of beta next week
In an email sent by Nat Eliason to participants of his Roam course, he said that he had been told by the Roam team that payments are being turned on next week.
This is big news for Roam and will allow the more than 50,000 people who are (im)patiently waiting to try Roam to finally find out what all the fuss is about.
RoamPublic.com
Last Friday, RoamBrain launched its new project, RoamPublic.com.
Following a suggestion by Andrew Kirby, we decided to create a directory website to provide links to all the available public texts which have been formatted for Roam.
As well as the Bible, the Bhagavad Gita and the Mahabharata, there is Plato's Republic, Machiavelli's The Prince and Shakespeare's Julius Caesar.
There are also the texts of an increasing amount of speeches, including ones by Martin Luther King, John F Kennedy, Barack Obama, Abraham Lincoln and Winston Churchill.
I started off manually formatting entries but my ability to do that has already been outpaced by the number of submissions. So I hope to be able to set up a dynamic website next week which will be able to deal with a greater number of entries.
---
That's it for today! I hope you've enjoyed reading the newsletter.
Francis Miller